History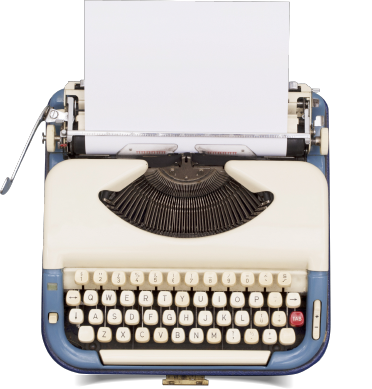 ION has been synonymous with chocolate for more than 85 years.
There are generations and generations of people who have linked the name of ION with their most pleasurable moments.
Still, what is it that lies behind your cherished ION? It's rather simple, really: Our love for chocolate, our commitment to quality, our determination for innovation and a long, long history that goes back to the 1930s, and it goes like this…
1930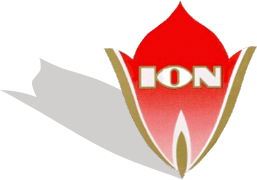 Neo Faliro, at Piraeus Street.
Here is where a team of partners aspiring to become chocolate manufactures create ION, with the fragrant sweet violet, whose ancient Greek name is ion, as logo and with a lot of appetite for hard work.
The sweetest story ever begins to unfold. The company's initial charter is published in the Official Gazette of the State of Greece on 23rd September, 1930 and ION sets sail on a journey for taste. The company maintains its headquarters to the same place where it all began up to this day.
1938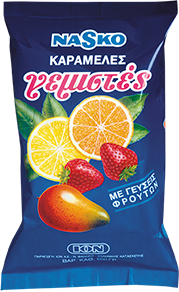 NASKO S.A. is joined with ION as its sibling in candy. NASKO's future products will include the hard-boiled ION Ygeias candy – it's impossible for anyone not to remember it – and the centre-filled NASKO candies.
1947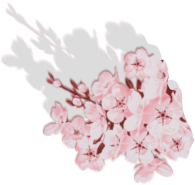 This is a landmark year for the history of ION and all of us, because this is the year when the most widely recognized almond tree branch in Greece finally blooms! ION introduces ION Amigdalou (Almond) and in the process, plants an almond tree that will grace childhood years of many children with the sweetest taste for years to come.
1956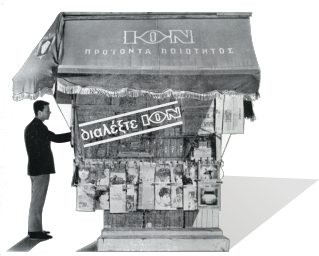 The formation of the "I. Kotsiopouloi Bros" company lays the foundations for developing ION's sales and distribution network.
The first store opens in downtown Athens and ION's reputation spreads by word-of-mouth… in the literal sense of the phrase! ION grows, assimilates NASKO S.A. and gradually begins introducing new chocolates, candies, gums, wafers and many other delicacies, making its tastier ideas a reality one product at a time.
1960-1970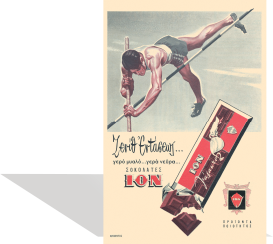 "The zenith of Intensity! A superior taste!"
ION's advertising slogans are nowadays regarded as part of a vintage heritage.
Back then, however, they were yet another example of ION's innovative spirit. ION's printed ads make history and elevate it to 1st position in company ads.
1975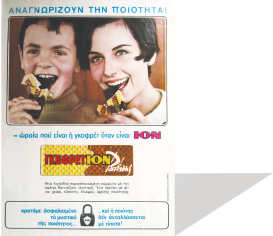 ION turns a new page in its history by inaugurating its facilities in Arta, where it builds a wafer production plant. This is the first step in making a grand idea a reality…
1976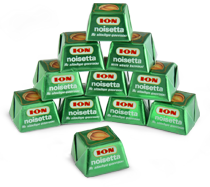 The tasty ION chocolate wraps itself around a whole hazelnut and the classic and much-cherished green Noisetta
is thus created to accompany Greek family moments, no matter how big, no matter how small.
1977

Two years after the wafer manufacturing plant at Arta, ION combines chocolate and wafer
and creates its groundbreaking and one-of-a-kind product – Chokofreta, the favourite sweet snack for all Greeks young and old.
1986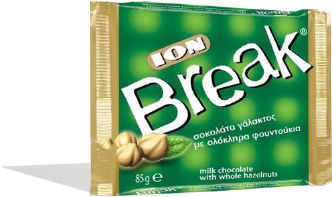 ION launches Break, the first square chocolate made in Greece,
whose record-breaking variety of tastes and rich texture achieves in squaring deliciousness.
1998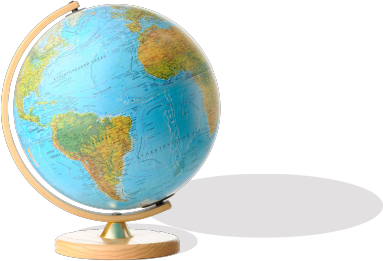 Since great taste knows no boundaries, ION decides to expand its business activities abroad and become a Greek chocolate manufacturer with international status.
Mabel joins the family of ION one year later with its holiday delicacies, for both Christmas and Easter seasons.
2003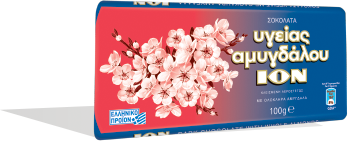 United they stand!
ION Amigdalou joins ION Ygeias and together they create a chocolate that combines the favourite taste of roasted almond with the pure and strong taste of dark chocolate.
2006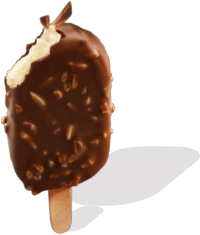 Ice cream, at last!
The fruit of ION's collaboration with KRI-KRI, the Greek dairy industrial company, is ION Amigdalou and ION Galaktos ice creams. ION's taste now becomes a staple of summertime.
2015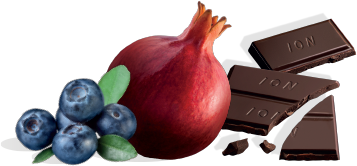 From the other side of dark chocolate comes… ION Dark.
ION's delicious dark chocolate comes in imaginative and blazing combinations that leave a great taste even in the most demanding mouths!
2015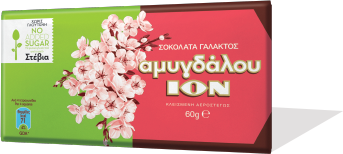 ION goes…green.
Stevia, the natural sweetener, meets chocolate to create the line of ION Stevia products, with all of ION's famous taste – but this time, with no sugar.
ION TODAY
Today, ION keeps growing and evolving as a 100% Greek enterprise, without losing its respect to its traditional values and without missing new opportunities. ION is a living example that entrepreneurship has more than just history in Greece, but it also has a future.
With three ultramodern production plants in Greece, 950 employees and a turnover of more than 110 million euros on an annual basis, ION is among the 60 largest industrial companies in Greece. Having faith in its values, ION makes sure that every single innovation will be developed through its products and through its responsible stance towards the environment, the workers and the wider society.
ION AROUND THE WORLD
Taste knows no boundaries; that's why ION is successfully expanding its export activity from the East to the West. On the map below, you can find all the countries where the ION favourite taste is exported.

In its continuous effort to introduce its products to new markets, ION participates in international fairs each year with the aim to broaden its horizons, to establish its presence in the ever-evolving chocolate-making world and to create new collaborations on a global level.